Photos! Photos! Photos!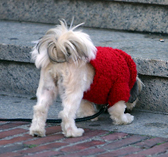 A Boston Knit-Out attendee enjoying the event.
Photo copyright © 2004
Todd Lehman
As promised, here are some pictures from the Boston Knit Out.
Todd Lehman posted an
excellent recap of the event
on his weblog, with lots of pictures. He has some great shots of the Show & Share in particular. There is also a
full photo Knit-Out photo gallery
of the pictures he took while there.
You can also see
Pictures from the fashion show, exhibits, and more
taken by Shawn Reeves.